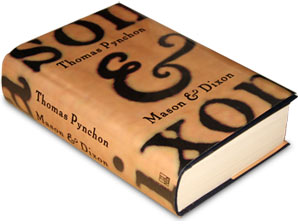 Get psyched! Today is the transit of Venus. It is the last time in our lives that we can possibly blind ourselves squinting at the sun trying to see a tiny spot crossing it. The next time it will happen will be December of 2117. So unless God hates us and somehow we invent even fucked-er life extending science we'll all be dead for it- Even you babies whose parents are reading this to put you to sleep.
Even more exciting though is that it is a great day to begin reading Mason and Dixon by Thomas Pynchon. Excepting The Crying of Lot 49 (which doesn't count, ya wimps) and 2009's Inherent Vice Mason Dixon is the easiest Pynchon read. It is also the funnest. It is also, I think, his least critically loved. I think. I'm not much for critics. You will need to overcome his decision to write with 18th-century diction, spelling, punctuation, Capitalization, and periodic sentences. Once your brain clicks over though it is a laugh a minute. Anyway, the story is of the relationship and adventures of the two explorers Charles Mason and Jeremiah Dixon who are kind of like Felix Unger and Oscar Madison from the Odd couple. The two first meet on a trip to Dutch South Africa where they've been sent to track the Transit of Venus in 1761, this is historically true. Less easily proved though is the Dutch S&M joint down there that featured a "Black Hole of Calcutta" themed room where customers were packed into a pitch black room so they could get up on some serious frottage action, not to mention going to the bathroom standing up. I last read it about 10 years ago but so much of the book is still vivid in my mind. There a bunch of amazing details that will remain etched into my imagination. SPOILER ALERT here are 10 of them:
1: Mechanical Super Goose: A French watch maker has built an outrageously sophisticated mechanical goose or duck. The machine is infinitely brilliant and can trave so fast that it is essentially invisible. It wanders the earth feeling sad and lonely because it has no equal to love. Based on the actual mechanical Vaucanson Duck which was the Automaton superstar of the mid 1700s.
2: Popeye Cameo: I forget where but damn it if the dudes don't run into a Native American made Jewish Golem with massive fore arms, a massive chin, pipe, and squint.
3:Stoner Ben Franklin Cameo(s): Ben Franklin is seen working on trippy sunglasses, maybe even 3D glasses
4:Jesuit James Bond: The Jesuit order of Catholic priests are out in the wilderness of North America (Ohio at the time) with incredible technology fore the time- I think it was the telegraph.
5:Talking Dog: Early on they meet "The Learned Dog" a fortune telling pup who talks like a gentleman.
6:Sexy Ketchup: Somehow down on the Horn of Africia the Dutch and English consider enjoying Ketchup and other "Oriental" sauces to be far too salacious for public consumption
7:George Washington's Slave: Who is kinda like Sammy Davis Jr. in his being Black Jewish and sort of a comedian.
8:The Ghastly Fop: A serialized sort of goth porn featuring a good for nothing fop/ghost.
9:George Washington's serious Hemp smoking
10:Dixon Abducted by Aliens.